Video Translation: Greetings, my name is Sister Thato Molisa, or in English, Sister Beth Spencer. I am a Peace Corps Volunteer. I live in Lesotho to work with MCCC, a support group that works to help orphans and vulnerable children in five village in the district of Botha Bothe. We live here (Lesotho is in southern Africa), but I am originally from New Hampshire. I arrived in Lesotho in June 2014. After ten weeks of Peace Corps training I moved to my village. I am happy to live in Lesotho. Thank you.
When I was facing my impending college graduation, one of my top interests was to join the Peace Corps. Philanthropy has always been a part of my life, but it was more than that. I wanted to face the challenges that come from leaving everything familiar to test yourself in a new place. I wanted to see the world. I wanted to expand my horizons.
What I did not want, however, was a commitment. And Peace Corps makes it very clear in the application and interview process that it is, in fact, a big commitment. So I withdrew my application during the medical review and found adventures closer to home with shorter contract lengths. I taught outdoor education and directed summer camp. I
volunteered
with a hospital construction team in the Dominican Republic. I
sailed on tallships
with teenagers challenging them and myself. I did relief work following
Hurricane Katrina
. I taught at an alternative boarding school that included stewardship as a major part of its curricula.
Throughout the decade following my graduation, the niggling idea that I was missing something by not embracing the challenge that living and volunteering abroad with
Peace Corps
offered. Thus, I found myself once again completing the rigorous application process (which has since been simplified) and eventually squealing with excitement at receiving my invitation to serve in the country of Lesotho as a
Healthy Youth Voluntee
r.
After finding out where Lesotho is, I spent the next few months preparing for my departure while continuing to teach World Cultures and Senior Humanities at the
Oliverian School
. Moving to Africa for 27 months seemed to need more preparation then boarding a ship for 4 months. In addition to the obvious things, like putting my belongings into storage, packing, and arranging power of attorney; I wanted to ensure I saw family and friends. The hardest part of saying goodbye was the knowledge that some might not survive my service, including elderly grandparents and a
father half a decade into abattle with cancer
. Unlike ten years earlier, however, I never questioned whether this was the right decision.
My host mother, two brothers, and me at a wedding.
The day I arrived in Lesotho, my host family for Pre-Service Training gave me my Sesotho name: Thato (see video above for pronunciation). My mother was thrilled to share that Thato means God's Will, to which my host father added that if it were not God's Will, I would not be in Lesotho at that moment. It was reassuring to hear that as I adjusted to eating Basotho food by candlelight trying to understand their accented English and rapid-fire Sesotho.
With this guy as my brother, how could I possible leave
Lesotho at the end of my initial service?
For my first two and half years of service, I lived and worked in a small community in rural Botha Bothe, Lesotho. My primary job had me building the capacity of
MCCC
, a loosely structured support group of volunteers trying to ensure the orphans and vulnerable children in the five surrounding communities are properly cared for. This included working extensively on income generating activities, organizational structure, and activities for the youth. Additionally, I did a number of other activities in the community, including teaching life skills at the local primary school, co-directing GLOW and Grassroot Soccer Camps, helping with a local HIV+ Teen Support Group, helping with the outreach clinic in the village, and similar activities.
Peace Corps Service is said to be 27 months, including the three months of Pre-Service Training. Most of my peers headed home in July 2016, however, I extended my service twice (
first in July 2016
and
again in August 2017
) and am currently serving as a Peace Corps Volunteer Leader. This has me working at my host organization half of the time and with Peace Corps the other half. I will continue to work in Lesotho until July 2018.
Despite trading the ocean for a land locked country full of mountains, I am absolutely in love with my life in Lesotho. Although many people join Peace Corps fresh out of college, as I once considered, I am grateful I waited and gained greater insight and skills before moving abroad.
Kea Leboha (thank you in Sesotho)!
~Beth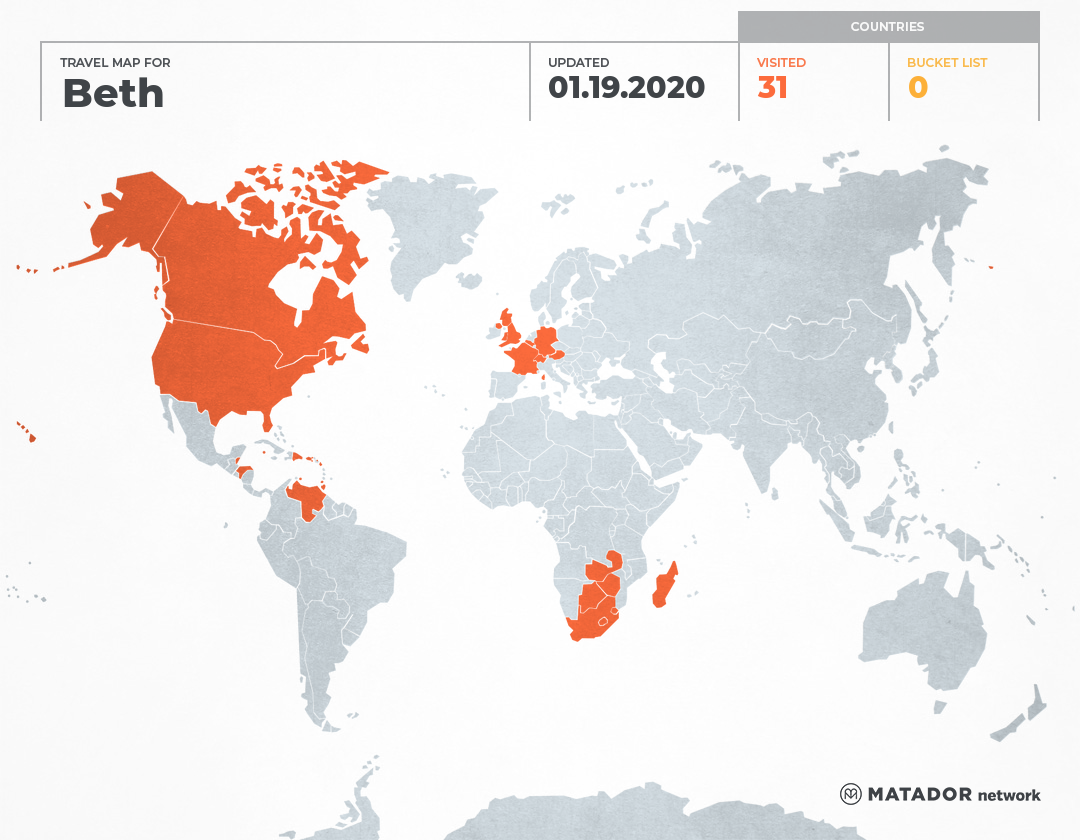 Beth has been to:
Antigua and Barbuda
,
Austria
,
Belgium
,
Botswana
,
Belize
,
Canada
,
Switzerland
,
Curacao
,
Germany
,
Dominica
,
Dominican Republic
,
France
,
United Kingdom
,
Grenada
,
Honduras
,
Cayman Islands
,
Lesotho
,
Madagascar
,
Puerto Rico
,
Swaziland
,
Trinidad and Tobago
,
United States
,
Venezuela
,
British Virgin Islands
,
U.S. Virgin Islands
,
South Africa
,
Zambia
,
Zimbabwe
.
Get your own travel map from
Matador Network
.
#BloggingAbroad #PeaceCorps #PeaceCorpsLesotho